Big bug
Ado/adultes – Durée totale: 80 min.
Disponible en DCP et fichiers numériques HD
Infos et tarifs : annabel@autourdeminuit.com
For teens and adults – Duration : 80 min.
Available in DCP and HD digital files.
Infos and rental fee : annabel@autourdeminuit.com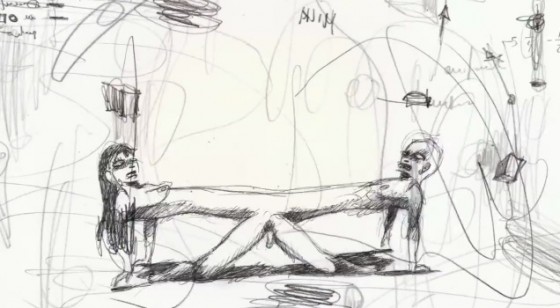 Pixels
L'invasion de New York par des créatures 8 bits !
The Master's voice
Peu de gens savent que toutes les nuits, à 03h33, les horloges s'arrêtent et le temps se fige l'espace d'un instant. Durant une fraction de seconde, une deuxième nuit prend vie, une nuit magique où les esprits de la ville se rassemblent et organisent leurs propres fêtes de quartier.
Topo Glassato al cioccolato
Une vision sombre et surréaliste dans laquelle les éléments se perdent dans un tourbillon infini.
The External World
Un garçon apprend à jouer du piano.
Sonata
Dans un univers imaginaire et musical, une jeune femme se fuit, se perd et fait l'expérience de ses propres limites. Petit à petit, elle se laisse apprivoiser pour mieux se recomposer.
Ex Animo
Une impression animée.
Lonely Bones
Gloire à toutes les âmes, Qui se terrent sur des planchers pourris, Et qui errent sans savoir que faire.
Duku Spacemarines
C'est l'histoire d'un chinois qui pirate le système capitaliste américain, d'un combat de tchèques, de poules, d'apocalypse.
Sun of a beach
Vous êtes à la plage, il fait chaud, très chaud, trop chaud…
Portrait
Des portraits cauchemardesques…
Aalterate
Une femme dans le coma flotte dans un espace blanc, immaculé. Soudain son corps commence à s'altérer, des formes organiques se manifestent et prolifèrent, emplissant l'écran.
Supervenus
Une vision moderne de la Vénus.
Page last updated on October 9, 2014 at 1:59 pm