Familles / Families
Durée : 70 min.
Disponible en DCP et fichiers numériques.
Infos, disponibilité et tarif : annabel@autourdeminuit.com
Adults – Duration : 70 min.
Available in DCP and HD digital files.
Infos and rental fee : annabel@autourdeminuit.com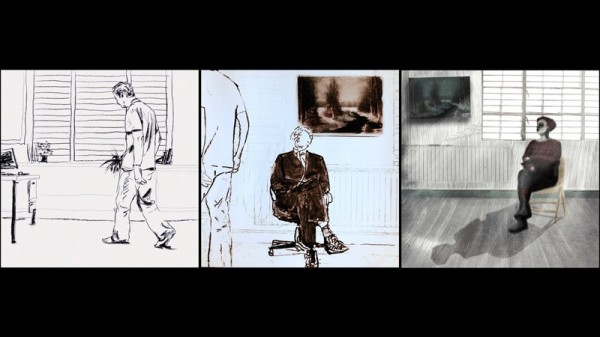 Through the hawthorn
Trois personnages, trois points de vue, trois réalisatrices. Une séance avec un psychiatre, un patient schizophrène et sa mère.
The Ringer
Un homme rencontre son père pour la première fois. On pourrait s'imaginer qu'ils vont rattraper le temps perdu et que le fils va tout apprendre sur son passé. Mais il n'est pas au bout de ses surprises…
Sangre de unicornio
Deux frères oursons partent chasser la licorne, leur gibier préféré. Les licornes ont une chair tendre et un sang au délicieux goût de myrtille dont les oursons ont besoin pour rester tellement mignons…
Dog Days
Grace, la dernière née d'une famille bourgeoise américaine, est échangée à la naissance avec Doug, le petit chiot d'une famille de « beaufs ».
Le Régulateur
Un homme et une femme adoptent un enfant en pièces détachées. Mais le choix des pièces n'est pas facile et l'enfant tant attendu ne sera pas aussi parfait qu'il aurait dû l'être.
L'Ecole des Beaux-Arts
Dans une boîte de paille tressée
Le père choisit une petite boule de papier
Et il la jette
Dans la cuvette…
Page last updated on October 9, 2014 at 2:07 pm