AREA 52
AN EXPERIMENTAL ANIMATION PROJECT BY JOHN MORENA
52 FILMS, ONE FILM EACH WEEK FOR ONE YEAR…
DISCOVER NOW THE FIRST 25 FILMS!
2017 / USA / Prod. : John Morena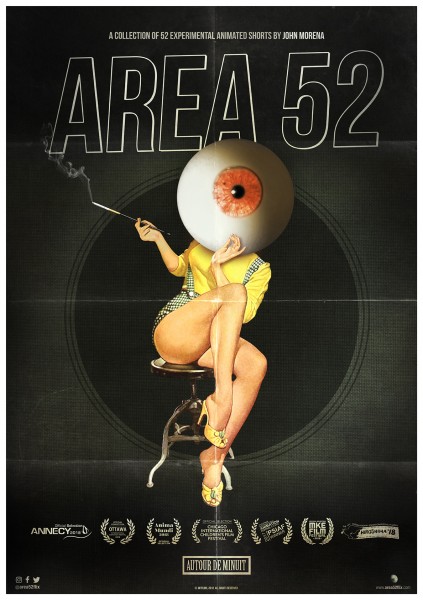 BARS & TONE (0'53) – An experimental animation made entirely with SMPTE color bars and tone.
BEST LAID PLANS (1'10) – Things never quite go the way we imagine it.
BRAIN STEREO (0'49) – Left brain vs. right brain. Left side of the screen was made with the right hand.
Right side of the screen was made with the left hand.
CACOPHONY (0'57) – What TV sounds like. Made with antacid tablets.
DICKS (0'57) – An educational film about war.
DREAMS I DON'T REMEMBER (0'57) – An animated scrapbook of my forgotten dreams.
FACE VALUE (0'47) – When you buy a product, you become a product.
FREAKQUENCY (1'12) – The revolution will not be televised.
FREEDOM FROM FEAR (0'49) – A comment on American gun culture.
FREEKIN' SPEAKIN' (1'09) // What good is free speech if no one is listening?
GIMME! (0'50) – It's always tax season. Made with lipstick, coins, cigarettes and other things.
GOALS (1'12) – A portrait.
HOME : A PORTRAIT OF NY CITY (2'33) – A portrait of New York City in three parts.
IDENTITY (0'44) – A portrait of a unique personal identity.
IT'S A GOOD IDEA! (1'13) – A portrait of how an idea is born.
JOURNEY TO THE CENTER OF EARTH (1'08) – A nosedive from outer space to the Earth's core.
MAKER OF MAZE (1'15) – Sometimes we get in our own way.
MINI JAZZ (1'02) – An improvised film made using straight-ahead animation.
SLURRED (1'46) – A list of slurs against females followed by a list of slurs against males.
STRING OF SOUND (0'57) – Human mouth noises paired with a piece of string.
THE COMMENTS SECTION (0'59) – A portrait of the Facebook comments section.
THE CREATOR (0'57) – Good ideas are hard to come by and dedication is a lonely place.
THE SHADOW (1'00) // A portrait of the dark side.
THE VOICES (0'56) – An experiment with limited animation depicting haunting voices in a dark place.
UNTITLED (0'54) – An experimental animation made with a flashlight and a scanner.