Kontrol Eskape
By Mathieu "mAt" Auvray & Stéphane "spoN" Bève
Music by OMR
France / 2005 / 11′ / no dialogues
Production : Autour de Minuit
in coproduction with Arcadi
In an out of time urban universe, a crowd of small bits of paper slowly wander, like zombies, under the yoke of tyrannical and violent hands. Their life seem to be organized around a ritual orchestrated by a hand-priest.
A solitary hand contemplates this strange world from the top of its tower …

Dans un univers urbain gigantesque monochrome et terne, composé de typographies, une foule de petits bouts de papiers, comme des tickets, déambulent lentement, semblables à des zombies, sous le joug de mains géantes, tyranniques et violentes. Toute leur vie semble s'organiser autour d'un rituel religieux où une main dominante et âgée sacrifie quelques papiers.
Excerpt
Watch on 6nema.com

Pictures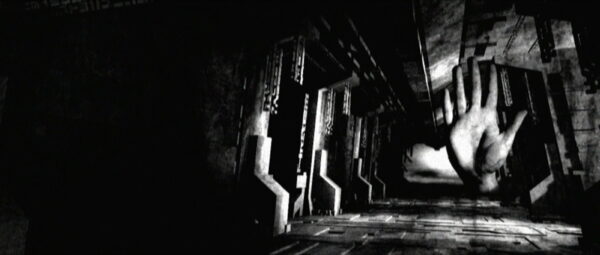 More than 20 selections
Melbourne, London, Sarajevo, Vilnius, Montreal, Lille, Madrid …