No Place Like Home
By Rosto
Music by Thee Wreckers
Netherlands / 2008 / 6′10 / English dialogues
Production : Valk Producties / Studio Rosto A.D.
"On n'est jamais mieux chez soi qu'en enfer…"
Un ex-présentateur TV vit reclus dans sa chambre d'hôtel. Avec pour seule compagnie le cadavre de son ancien partenaire, il regarde avec nostalgie les rediffusions de leur glorieuse émission. « Et si on remettait ça comme au bon vieux temps ? »

"There is  no place like  home, There is  no place like hell…"
A one-eyed has-been TV presenter hides away in a hotel room with his dead sidekick to watch reruns from their better days. "Let's revive some of our moments now" he says to the corpse in his arms. "It's OK, I'm just glad you are here".
Available in DVD : Experience(s) 5
Excerpt
Pictures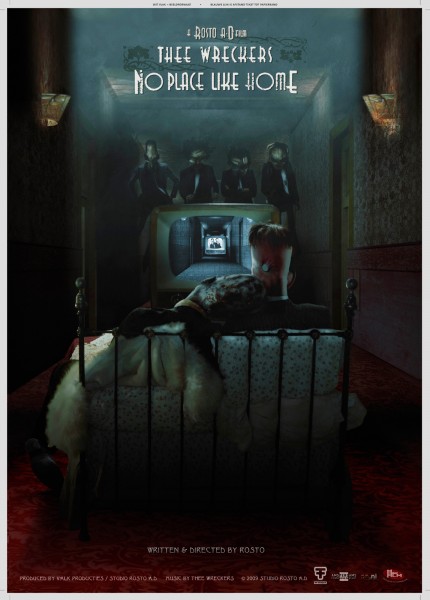 More than 30 selections
Clermont-Ferrand, Imagina, Prague, Stuttgart, Trebon, Nemo, Sapporo …
Awards
Brussels, Utrecht