Newspaper : ADM au Cartoon Movie 2012

Of 7 at 9 mars 2012, Autour de Minuit presents two feature film projects at the Cartoon Movie, In Lyon.
French Film, Screen Total and Sonovison talk about it…!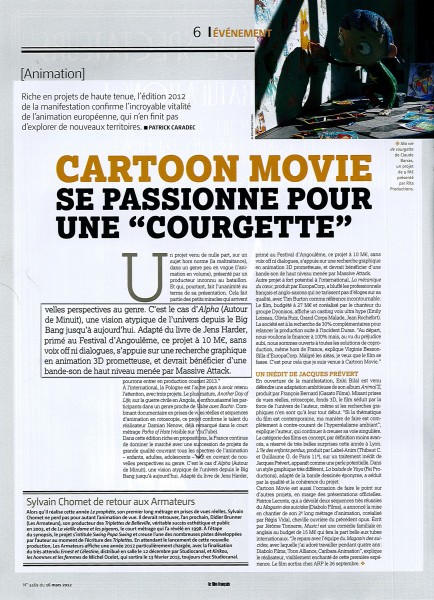 French Film n ° 3469 – 16 mars 2012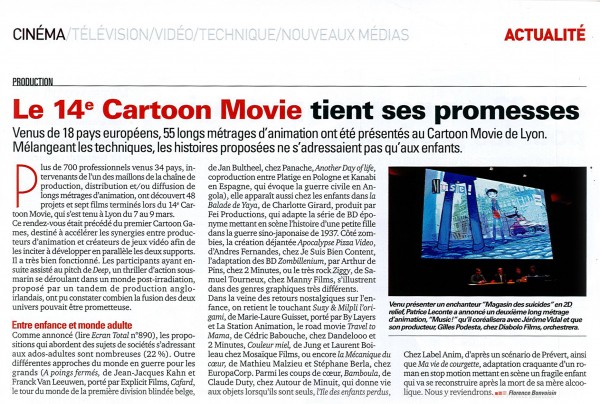 Ecran Total n°891 – Of 14 at 20 mars 2012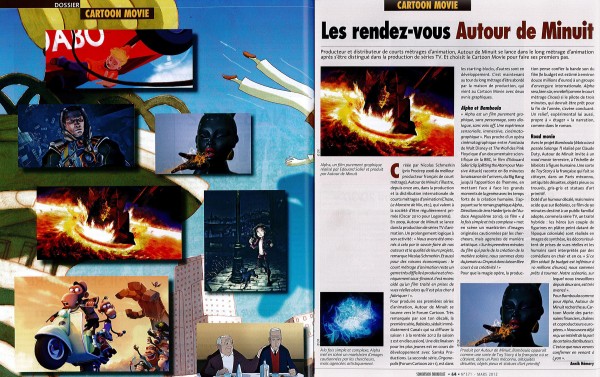 Sonovison No. 571 – Mars 2012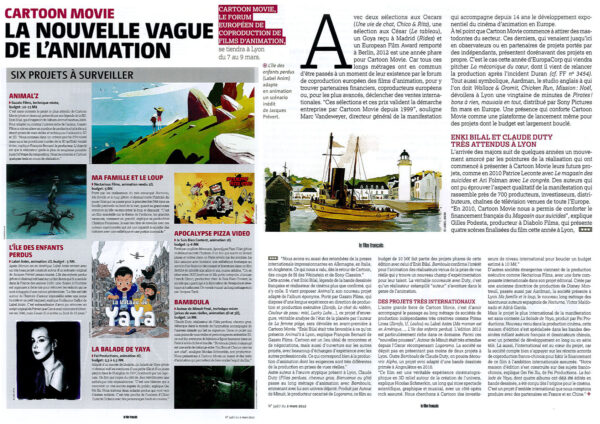 The French Film n ° 3467 – 2 mars 2012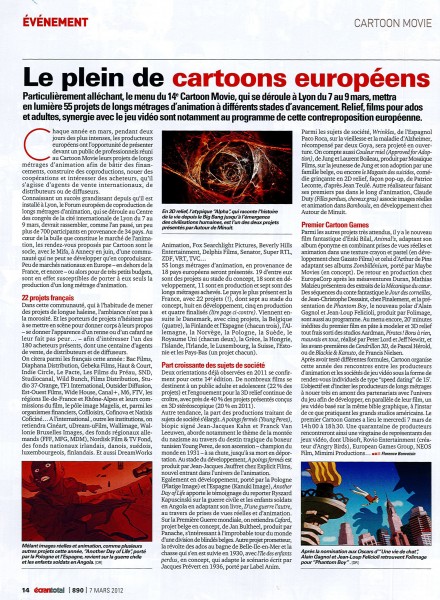 Ecran Total n°890 – Of 7 February to 13 mars 2012

"ALPHA" by Édouard Salier (3D relief)
According to "Alpha… Directions", Jens Harder's graphic novel (Angoulême Audacity Prize 2010)
Drawing on current knowledge in all areas of knowledge (astrophysics, biology, chemistry, anthropologie, archeology, etc.), Alpha tells the story of life spanning fourteen billion years, from the Big Bang until the appearance of man. Without dialogue or voice-over, Alpha's narration will be based primarily on breathtaking images and an original musical score composed for the film.
BAMBOULA (But where did Solange go??)" by Claude Duty
Written by Claude Duty and Jean-Philippe Barrau
In a little-known Paris where old-fashioned antique shops rub shoulders, menacing catacombs, lost and found back room, tramps caddies and passageways of prestigious museums, Georges, small plaster statuette painted in the colonial taste of the years 50, goes in search of his other half, Solange. He will then live adventures and meet many characters, friends or foes, in a secret world where human-shaped trinkets are endowed with life.