Around Midnight at the Palais des Beaux Arts in Lille from 4 December.
The Palace of Fine Arts of Lille launches its exhibition "E. Graphic emotion - From old drawing to contemporary animation."
Around Midnight is exhibited by offering many films from its catalog. This is the opportunity to discover, or re-discover some classics of Autour De Minuit.
L'exposition E.motion :
This exhibition confronts the practice of old drawing through sheets from the collections of the Palais des Beaux-Arts in Lille, from Raphaël to Watteau, from David to Delacroix, to creations of contemporary international graphic design. Taking up the declination of genres and subjects found in painting such as portrait, the invention of the decor, the Academies, the draperies, etc. the exhibition reveals the aesthetic correspondences between classical and contemporary works. The originality of the techniques and compositions of the drawings from the 16th to the 19th century will be highlighted by contemporary graphics and will demonstrate what the art of the 20th and 21st century owes to the act of drawing. The exhibition will distinguish recent works that revisit our heritage as a place of constantly renewed themes and motifs..
The Around Midnight films present during the exhibition :
Meischeid
The Tale Of How
Strata#2
Logorama
Forecast
Chrysalide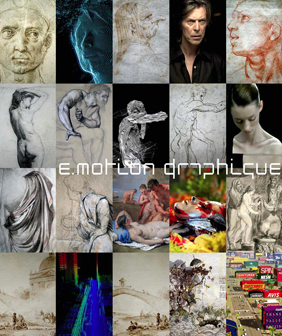 Practical information
Exhibition of 04 December 2009 at 22 February 2010
Republic Square 59000 Small
Temporary exhibition room (level. R-2)
Website of the Palais Des Beaux Art in Lille