Domestic Animals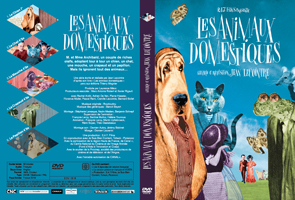 Jean Lecointre took courses at the Superior School of Graphic Arts in Paris. He then creates his own collages for the press, l'édition ou la télévision et publie ses premières illustrations pour Libération avant de mettre en images la cultissime "Plasma swing" written by Pierre La Police.
In 2003, he switches to animation with "Turkish Delights", a collection of pastry adventures broadcast on C +. Après la parutions des albums "Les Dents du loup" (2002), "Les Animaux domestiques" (2007) et "A la mode" (2010), 3 particularly noticed works, « L'Odyssée d'Outis » obtient la pépite du meilleur album au Salon de Montreuil en 2013.
DOMESTIC ANIMALS
2016 / France / French dialogues / English subtitles
Version unitaire de 22 min + version 5 episodes of 5 min.
Episode 1 : The dog
Episode 2 : Cat
Episode 3 : Fly
Episode 4 : The toad
Episode 5 : The butterfly
Price : 12 € (shipping costs not included)
ORDER : -> boutique@autourdeminuit.com with payment via Paypal