Experience(s) 4
The best of new images from 2008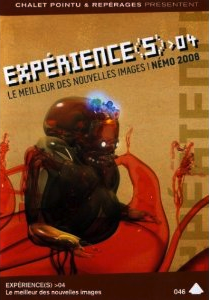 S.I.T.E by Pablo Orlowsky,
energy ! de Thorsten Fleisch,
Berni's Doll by Yann J
Strata #1 by Quayola
Magnetic Movie de Semiconductor,
Ark de Grzegorz Jonkajtys and Marcin Kobylecki,
Music therapy by Clément Picon, Manuel Javelle and Amael Isnard,
Josie's Lalaland de Eb Hu,
Things Fall Apart by Rob Chiu and Chris Hewitt,
Pikapika, Lightning Doodle Project de Kazue Monno et Takeshi Nagata,
Wingbeats de Thomas Newton,
Butler Brothers Mask,
Sanitkasan de Ondrej Svadlena,
Terminus de Trevor Cawood.
Clips
Ted (Clark) by 1st Avenue Machine,
Haven't Been Yourself (Seventeen Evergreen) of Encyclopedia Pictura,
Music Matters (Faithless) by Nieto,
User (The Replicants) by Édouard Salier,
Jimmy (Moriarty) by Le Groupuscule.
and bonuses ...
BONUS : Generics Nemo 2008
E407 Noah Harris
Making of Ted
Teaser Naiade
Teaser dvd Nieto
Teaser Salier
Price : 12 € (shipping costs not included)
ORDER : -> boutique@autourdeminuit.com with payment via Paypal